Fog Dub Releases First Album – Vessel [Ganjaology Exclusive Interview!]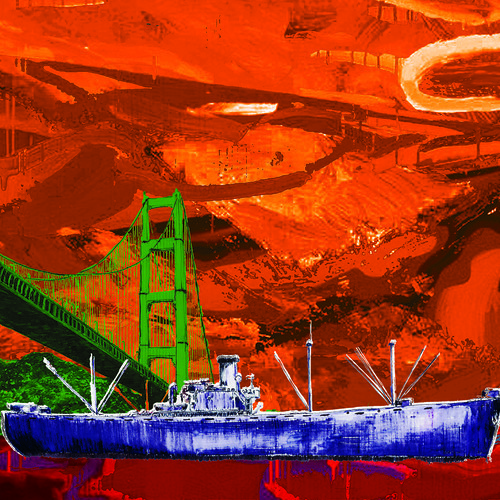 Bay Area Dub group, Fog Dub is moving the dance with their recently released album, Vessel. Featuring six musicians and a sound man, Fog Dub's vision for contemporary dub music is exciting and original, while clearly crafted in the style of real roots dub.
For those that don't know, the term 'dub' refers to a subgenre of reggae music surfacing in the 1960s. This started with the introduction of the technique called overdubbing in which already produced tracks were stripped down, paired off and fine tuned with the addition of electronic after effects to create a new set of sounds, aptly titled – DUB. Among the most well known original dub musicians are Lee 'Scratch' Perry and King Tubby, both of whom were noted for their influence on the Fog Dub project.
Fog Dub features an incredible collective of musicians. With no shortage of brass, the band is fronted by foghorns Liz Larson (Aphrodesia) and Kelsey Howard (Groundation) on trombones, with Patrick Byers (Albino!) on baritone saxophone. The group is then anchored by a boss riddim section including Michael Bello (Albino!) on Bass, Chris Mulhauser (Aphrodesia) on guitar, and James Stafford (Steve Pile Band) on drums. Let's not leave out the sound man responsible for all live effects, delays, echoes and overdubbing!
The album itself features two beautiful sets of sounds – the six original instrumental tracks, plus six dub versions which include after effects and some additional studio work. The originals are smooth and sexy, while deep and bellowing. In contrast, the dub tracks really bring the outer space flavor!
We had the distinct pleasure to meet with Pat Byers, leader of Fob Dub for an interview.
Check it out after hitting play!
PURCHASE THE ALBUM ONLINE HERE!
GANJAOLOGY : This is Ganjaology and we are here with Pat Byers, band leader of Fog Dub – San Francisco based dub group. Pat, why don't you tell us a little about the group.
FOG DUB : Well, we're six musicians based mostly out of San Francisco and Oakland. It's kind of an old family collective of a bunch of people that were really close to me. We wanted to start a band and do something that was a little different. You know reggae is huge these days and everything else and with what's happening right now with the resurgence of dub in the zombie form of dubstep… A good friend of mine, Elizabeth Larson (one of the trombonists) and I are really long time fans of dub and We were like… "sweet, let's put this together and make it happen."
Through a couple years of evolution, member changes, composition and recording and everything, we got ourselves a really good group of people that understand the music and the tradition of the roots dub… not the modern dance music, but the original bass music from Jamaica in the '70s.
GANJAOLOGY : What kind of instruments are you using?
FOG DUB : We are fronted by two trombones, and then I play baritone saxophone and auxiliary instruments – melodica, guitar and what not. And then it's guitar, bass and drums. And then we have a sound man that is kinda the seventh member of the band and he is responsible for all of the effects, the delays and reverb and what not that you would hear on an actual dub recording… he does that all live, running a soundboard. He's got pedals and different delays that he's working. So the producer after effects which makes it what it is and not just instrumental reggae is being executed live!
GANJAOLOGY : You guys just released an album, Let's hear a little about that and the process.
FOG DUB : Yes, Vessel. It's kind of a double EP. The idea was to get something down on tape quickly and get it out to the world and we did that. We wrote six songs, learned them really quickly, but throughout that process, we started going through the editing and I just heard it being dubbed out more. And so with Robin Livingston, a good producer friend of mine, he and I kinda attacked it and made remixes, dubs, of every track. It's kinda like a two sided CD. You listen to the first half and its all the original songs, the horn lines in full, and the musicians playing as they played in the studio that day and the second half is the dub, the darkness and the effects… and the surreal outerspace-ness that people come to expect. It sounds much more modern in some ways, because of the effects and some of the delays we use are modern. So you know it's like the balance… The yin and yang of dub and instrumental reggae.
GANJAOLOGY : Cool, you guys are well on your way. What can we expect from Fog Dub this coming year?
FOG DUB: Yes, the album just got finished, we did a couple CD release shows and now we're revamping and putting together some new music. We want to get back in the studio to record a couple singles, We've got a single that's about ready to come out right now, that's not on the album. And then the booking… the booking is starting to roll in. And ya there's gonna be a lot coming up in the future so stay tuned!
Big thanks to Pat for the interview and much love to Fog Dub for seductive sounds.
PURCHASE THE ALBUM ONLINE HERE!
Posted on January 1, 2013, in Ganjaology, Music and tagged Albino!, Album, Aphrodesia, Chris Mulhouser, Dub, El Radio Fantastique, Fog Dub, Interview, Jade Ismail, James Stafford, Liz Larson, Michael Bello, Patrick Byers, reggae, Roots, Steve Pile Band, Vessel. Bookmark the permalink. Leave a comment.