Ganja Sounds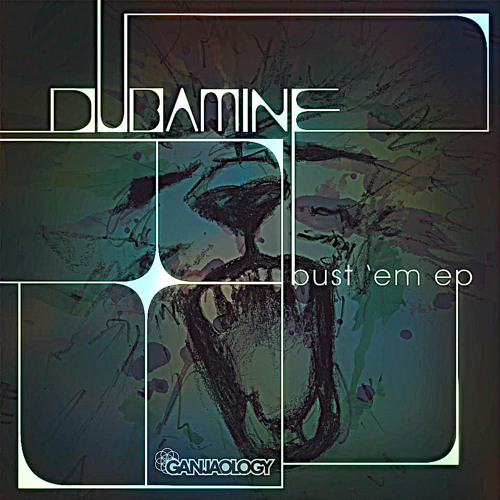 We are proud to announce Ganjaology's first release with multi-talented creator Dubamine! The Bust 'Em EP features four tracks filled with drippy synths, crisp percussion, and bubbling dub baselines – all packaged into a visionary dub selector's dream pack. Whether your tastes tend toward the heavier side of dubstep or the more reggae influenced, vibes oriented rub-a-dub stylee, the Bust 'Em EP has something for you.
Native to Santa Cruz, based in New York – 22 year old Lucas Heinel is Dubamine. Already receiving accolade from some of the scene's heaviest hitting DJs, the sound boy is on track to be one of the hottest up and coming artists of 2013. His tune "Wicked Dub" was recently featured on a mix by legendary UK selector, Cessman. With plans to release a series of EPs followed by a feature length album through Ganjaology Records, Heinel has his work cut out for him.
When asked, "Why Dubamine?" – Heinel replied that the name highlights the idea that within each of our brains is a little receptor specifically targeted to resonate with the sounds of dub. The Bust'em EP, available for free download June 1st, is just a teaser of what this sound boy scientist can do. We invite you to awaken your consciousness with a pure dose of Dubamine!
Callisto's (The Ganjaologist) single, DULCIMER DUBS.  Enjoy the vibes!
Ganjaology Presents: Spine Waves EP : Banditz & Self Help
Ganjaology is proud to present our first official EP entitled Spine Waves.  It's a split EP between Self Help, one of Ohio's hottest artists in the underground EDM scene, and Ganjaology members, Banditz, out of Orlando, Florida.  This EP has been about 6 months in the making and contains two Self Help originals with Banditz remix of each and two Banditz originals with Self Helps remix of each.
Touching on a number of different genres such as dubstep, moombahton, disco, house, and downtempo, Spine Waves is bringing a uplifting, energetic, summer vibe to your environment no matter where you may be in the world.
Purchase your copy of Spine Waves (WAV, FLACC, 320) through the Ganjaology BandCamp, or if you're low on funds we're giving it away at 256kbps for free down below.
Thanks so much for supporting Ganjaology.
Low on dough? Have it for free Here.
Love, Ganjaology
Ganjaology Presents : Te Wa 
Tune in to the sound of the Bolivian DJ and producer,  Te Wa!  This is a junlge mix he did for Ganjaology that carries some unusually positive and deep vibes! .  As usual, CRANK THE SUB!
Ganjaology Presents: Lady Like Treats and Ganja Smokin Beatz
The Ganjaologist lays the foundation through a thoughtful selection of energizing dubstep rhythms. Choosing tracks that highlight the height of babylon while quietly questioning the bounty of kings, The Ganjaologist brings us into the dangerous realm of social awareness. Cold, crisp and handsomely crafted, this nourishing beat salad is sure to spark discussion.
The first course is served!
.
If you like what you've heard here, be sure to follow the artists on Facebook and Soundcloud. Your support is appreciated.
Bless up.
Ganja Smokin Beatz Track List:
Claim Earth – Ming
Ted Dibiase (Banditz Remix – Tezo
Wheres the drop – NumberNin6
Less Corruption – LoveAvalanche
Push The Kush – Banditz
Head Space – Bastille
Set Me Free – Atlantic Connection
Celestial Dub – Coki
Shadow Of Dub – Lee "Scratch" Perry
Say To You – The Others
Just Because Of You – MartyParty
Consume – My Nu Leng
TEZO – Ted Dibiase (Banditz Remix)
Cleveland creates talent.  It might not KEEP talent, but it does indeed create it.  That is going to be lesson of the year.  Banditz have produced yet another speaker blowing tune. This time however, it's a remix Tezo's (Cleveland's hottest up and coming rap artist) Ted Dibiase.  For those of you who don't know who Ted Dibiase is, he is the WWE superstar (from the 90's) who goes by the name "The Million Dollar Man".  How could you not want to be Ted Dibiase?   With the exception of Paradise, none of Banditz other tracks feature a vocals as a prevelant part of their songs.  I must say…I really like the change of pace with this song.  The swung beat with Tezo's energy on top of the track leaves you in a blissful state for a couple minutes.  They put in a lot of work on this remix, and it really shows.  It seems they really might be learning a few things at school!  THEY BE STUNTIN! STUNTIN! STUNTIN! STUNTIN! This track goes hard.  Bump it and show Banditz and Tezo some love!