Blog Archives
Tic, tic, tick. The new Pericles album drops at midnight and I feel like we've been waiting for ages!
For centuries the soul of Pericles has been searching; selectively sourcing incarnate bodies that have served him  in his quest for a unified consciousness. As the arms of time swing into alignment on the cosmic course of creation, Pericles has found a vehicle with which he can finally share the ancient knowledge he has amassed  during his travels. Ancient Desert tells the tumultuous story of a universe, torn from the ether and tossed into existence. Having become an ever expanding system of sacred beings, desperately drifting through the sands of time; our universe has created for us a key to unlocking the treasures of tomorrow. The vibrations that Pericles has channeled here will serve to share with us the lessons, learned over millennia, in order that we may one day return to that beautiful unity from which we were born.
Since his inception into the consciousness of Pericles in 2007, South Carolina's premier bass producer has released two full length albums along with quite a few mixes and compilations from labels including Abstract Logic Recordings, Waveform Modulations, Glitch.FM and Vermin Street. With his heart burning a space in his soul, Pericles  represents the Wondrous Temple of Boom, and has played at South East burns such as Transformus and Alchemy. Artists that have shared the stage with this energetic creature include Shpongle, Ott, The New Deal, Nasty Nasty, Freddy Todd, Ana Sia, Alex B, Ben Samples, Pretty Lights, Eprom, Mochipet, Big Gigantic, Ooah, Quetzatl, Eliot Lipp, Signal Path, and Conspirator.
With remixes by Freddy Todd, Charlie P, and Brad Bitt, Ancient Desert will not go unnoticed. Check out this teaser tune, and pick up the whole album when it releases on BeatPort tomorrow!
Also, check the links below for more music from Pericles.
Sun Beams Album // Pericles Bandcamp [FREE DL]
Ancient Desert Mix // LostInSound.org
Dolphin Crunk // Ganjaology.org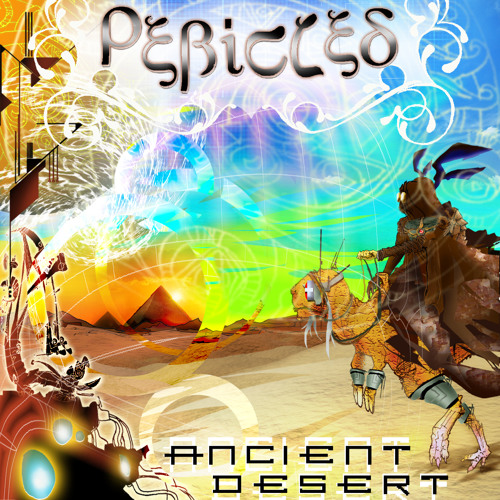 Introducing Abstract Logic Recordings artist, Pericles! Heavy, glitchy, saucy, and slippery when wet… the music of Pericles is sure to please. Hailing from Charleston, South Carolina Pericles has toured the southeast with electronic festival favorites such as Shpongle, The New Deal, Nasty Nasty, Pretty Lights, Eprom, Mochipet, and Big Gigantic among others. His glossy melodic over rhythms tied with deep reaching sub bass create an atmosphere conducive to cruisin' for cut up, if you know what I mean. The following track, Dolphin Crunk offers some splashy synths that make me want to strip down to my skivies and sit in the sun… carefree, cocktail in clutch. Plus – free promo MP3 download. Check out dude's soundcloud page for more free downloads as well as the link below for a download of Pericles' newest release Ancient Desert Vol 1. (right click to save link).