Blog Archives
Last time we spoke about the very rare and talented North West Based producer, Keyboard Kid, he had just released his album #RARE DROPS FROM THE SUN, which was a huge release for him halfway through December, 2012.  Since then has been hard at work in the studio and recently released TWO new albums.  The first one I'd like to present is called DON'T LEAVE BASEDWORLD. This is a 27 track album compiled of really smooth, atmospheric, beats that ultimately touch on the mellower side of Basedworld and leave you feeling nicely chilled out.  My favorite track off this album would have to be Corpse Bride.   This track opens up with a ghostly female voice nicely chopped up, and then the beat promptly drops in, perfectly fitting right behind the sample.   What really left a footprint of Corpse Bride in my memory is the heavy bass line that's got such an old school analog sound to it.  It's downright dirty.  Check it out, you'll know just what I'm talking about.
Here is what Keyboard Kid had to say about DON'T LEAVE BASEDWORLD…
"This Album Is #Rare, Treat It As Such..Let It Guide You On Your Based Journey..These Are Musical Scores For Your Lifes Movie.. This Music Is For The Based Community.. The True Based Supporters. The BasedGod Has Told Me To Spread The Based Knowledge And The Positivity.. Stay In BasedWorld..It's Hell Outside….It's Hot Whoadie.. It's Hell On Earth..But I Got The Heata..Don't Leave BasedWorld..Protect Me.. Protect Lil B..We Will Protect You." – Keyboard Kid
Next up is Keyboard Kid's latest album (released 12/1/13) Noah Calhoun.  While DON'T LEAVE BASEDWORLD carried a darker tone throughout the entirety of the album, Noah Calhoun is the opposite of that.  I'd call this an album of purely inspirational beats.  Each track makes me feel like I could climb a mountain…like I could sail around the world tomorrow…like I could win the Olympics with no training…It makes feel like Noah Calhoun.
"I'M SO #RARE AND SO PRETTY..MY BEATS ARE THE BEST..FUCK U BITCH..IM THE FINEST BITCH..IM FINER THAN MY BITCH..I'M A BLONDE BEAUTIFUL BITCH" – Keyboard Kid
Enjoy!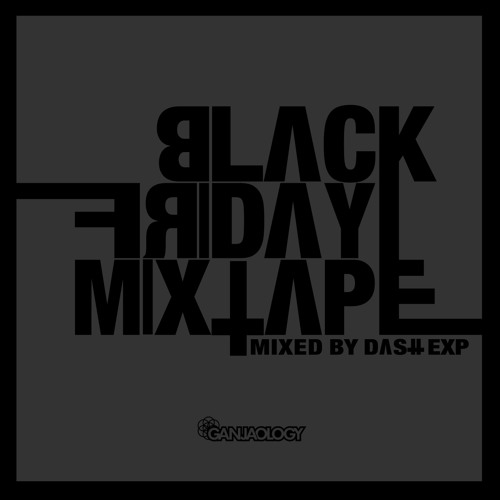 Dash EXP & Ganjaology are proudly bringing you the BLACKFRIDAY Mixtape.  Featuring original tracks and remixes from himself and supporting artists such as Starkey, UZ, Antiserum, Djunya, and Banditz (Ganjaology), Dash EXP is taking you down a 45 minute bass packed adventure that touches on the sounds of today's bass music movement.  Unlike everything else that's just on sale today, this mix is absolutely FREE.  Whether your favorite sounds stem from hip-hop, dubstep, house, or techno, you'll find Dash EXP brings a little of something for everyone with his BLVCK FRIDVY MIXTAPE.  Check it!
Bookings: kumcurek@gmail.com
BLVCK FRIDVY MIXTAPE
mixed by DASH EXP
    01    Fuck The World INTRO (Gucci Mane x Future)
    02    ƱZ x CRNKN – Booty 2 The Ground
    03    Dash EXP vs Tony Goods – Lose it (VIP Mix)
    04    Antiserum & Djunya – Soul Gravy
    05    Suzie Homewrecker – M.O.E. (Token Remix)
    06    Juicy J – U Trippy Mane (Huggy Bear Remix)
    07    ETC!ETC! & Brillz – Swoop
    08    Mista Hyde – G#1
    09    Rick Ross vs ƱZ – Hustlin (Big Once's Blend)
    10    Steve Starks – Room Keys & Bitches
    11    Rockie Fresh – You A Lie (CRNKN & Branchez Remix)
    12    Abrasion Equation – Dark Matter (Dash EXP Remix)
    13    Sam Tiba – Dem Thirsty
    14    Quantic – Mishaps Happening (Flux Pavillion Remix)
    15    Tyga – Lap Dance (JWLS Bootleg)
    16    Mykki Blanco – Haze.Boogie.Life
    17    Dash EXP – Trimmin'
    18    Dash EXP – Emergency
    19    Son of Kick x Foreign Beggars x Virus Syndicate – EOW (Starkey Remix)
    20    Kanji Kinetic – Jiinx
    21    Starkey – DPMO ft Trim
    22    ¡El Cucuy! – Thug Theogony
    23    Future – Turn On The Lights (Dash EXP Bootleg)
    24    Starkey – Thugs
    25    Dash EXP – 2 Real
    26    RL Grime – Flood
    27    Banditz – Dat Ass
    28    Klever – Alright
Mixed Live
 This year at Decibel Festival, one of Seattle's most well known names in the dance music community will be hosting their own musical showcase featuring some of the hardest hitting bass heavyweights in the game.  Ganjaology would like to congratulate Bassdrop Music on hosting MartyParty, R/D, Danny Corn, and their own artist KAT1LYST, at The Crocodile on Saturday, September 29th.  Bassdrop is known for the diverse assortment of shows they've been bringing to Seattle over the last few years, and this show is going to be another memorable night put on by the forever-grinding label.  In celebration of the Bassdrop Community Bass Session taking place at Decibel, KAT1LYST has released a promo mix called Trunk Muzik, which is just a little preview of what you can expect on the night of the 29th.  The name kinda says it all about this mix…you're on your way to the trap.
"DAMN SON WHERE'D YOU FIND THIS?"