Blog Archives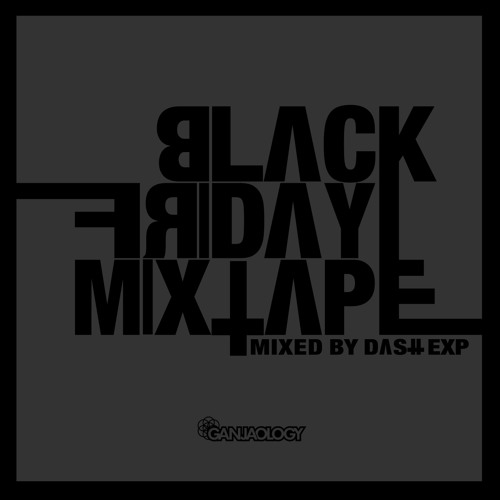 Dash EXP & Ganjaology are proudly bringing you the BLACKFRIDAY Mixtape.  Featuring original tracks and remixes from himself and supporting artists such as Starkey, UZ, Antiserum, Djunya, and Banditz (Ganjaology), Dash EXP is taking you down a 45 minute bass packed adventure that touches on the sounds of today's bass music movement.  Unlike everything else that's just on sale today, this mix is absolutely FREE.  Whether your favorite sounds stem from hip-hop, dubstep, house, or techno, you'll find Dash EXP brings a little of something for everyone with his BLVCK FRIDVY MIXTAPE.  Check it!
Bookings: kumcurek@gmail.com
BLVCK FRIDVY MIXTAPE
mixed by DASH EXP
    01    Fuck The World INTRO (Gucci Mane x Future)
    02    ƱZ x CRNKN – Booty 2 The Ground
    03    Dash EXP vs Tony Goods – Lose it (VIP Mix)
    04    Antiserum & Djunya – Soul Gravy
    05    Suzie Homewrecker – M.O.E. (Token Remix)
    06    Juicy J – U Trippy Mane (Huggy Bear Remix)
    07    ETC!ETC! & Brillz – Swoop
    08    Mista Hyde – G#1
    09    Rick Ross vs ƱZ – Hustlin (Big Once's Blend)
    10    Steve Starks – Room Keys & Bitches
    11    Rockie Fresh – You A Lie (CRNKN & Branchez Remix)
    12    Abrasion Equation – Dark Matter (Dash EXP Remix)
    13    Sam Tiba – Dem Thirsty
    14    Quantic – Mishaps Happening (Flux Pavillion Remix)
    15    Tyga – Lap Dance (JWLS Bootleg)
    16    Mykki Blanco – Haze.Boogie.Life
    17    Dash EXP – Trimmin'
    18    Dash EXP – Emergency
    19    Son of Kick x Foreign Beggars x Virus Syndicate – EOW (Starkey Remix)
    20    Kanji Kinetic – Jiinx
    21    Starkey – DPMO ft Trim
    22    ¡El Cucuy! – Thug Theogony
    23    Future – Turn On The Lights (Dash EXP Bootleg)
    24    Starkey – Thugs
    25    Dash EXP – 2 Real
    26    RL Grime – Flood
    27    Banditz – Dat Ass
    28    Klever – Alright
Mixed Live
Last week we featured a spectacular remix of J. Cole and Missy Elliott's song , Nobody's Perfect, that was produced by Ill-esha.  This week, we've got another remix of Nobody's Perfect from the Pacific North West's, Tony Goods.  When you're surrounded by grey skies that provide a never ending source of cold rain, you often times find yourself needing something that brings heat to your life.   Bringing the heat is exactly what Mr. Tony Goods is doing with his brand new tropical bass bootleg.  You could be in the worst rainstorm of the year, without any rain gear on, in flip flops, freezing cold, and as soon as you put your (also soaking wet) headphones on and clicked play on Tony Good's Nobody's Perfect bootleg you'd be transported to the sunny beaches of Costa Rica sipping on a gin and tonic, watching the waves roll in and the beauties of the beach play volleyball.   The vibes are happy, the bass is kickin, peoples ears are happy.  Enjoy this free download!